Did you know the flashlight is society's most popular object to buy in terms of camping items?
But that's definitely not all you need the next time you head out for an adventure!
You may view your time in nature as a method of getting away from it all. But it can be so much safer and more enjoyable if you upgrade your camping gear with some interesting modern gadgets and resources. We created a must-have list that many people don't think about at first. But once you've camped with these as part of your luggage, you'll never leave them at home again.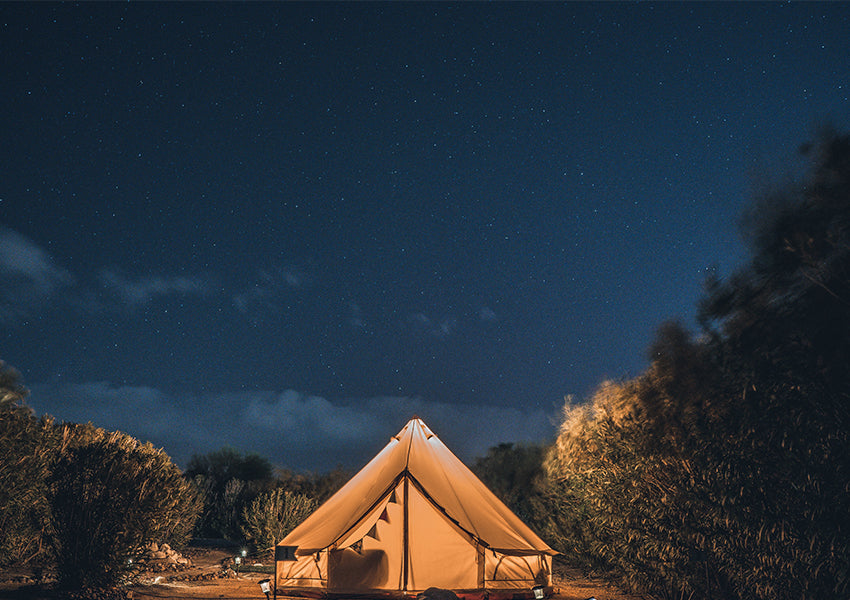 What to Consider Before You Go Camping
Apart from your gear, we do advise first-time campers to set aside some time to properly prepare for the excursion. Experienced campers know to consider the following:
Weather: Check weather predictions for the area you'll travel to, so you're sure to pack enough warm jackets for cold fronts, or cooler clothing to beat the heat.
Campers' interests: Who will you camp with? Discuss everyone's expectations, so you cater for different preferences in terms of food, activities, and the type of camping. Some may prefer glamping and won't be impressed if you plan a weekend where you'll survive on the bare minimum food rations and limited luxuries.
Options in the area: Research camping facilities and activities in the area, so you can book ahead and plan an itinerary. While it's fun to be impulsive during summer adventures, you should make sure you have a safe place to sleep each night.
Basics are important: Check with all campers that they have enough food and relevant clothing. Also, a cooking method—fire or gas—is vital.
Health and safety: Be sure to pack campers' chronic medication if relevant. A basic first aid kit should be standard.
Keep it eco-friendly: Your time in nature shouldn't harm the environment. Use bio-degradable items as much as possible and plan a hygienic but eco-friendly way to dispose of waste during the trip.
Now, apart from the basics, for camping or glamping, pack these as well. 
Items All Campers Need to Pack
Mini Water Dispenser
Camping is a great time to learn new things, such as catching fish for dinner. But, at least have clean water on hand, rather than drinking from the river or dam. You never know what parasites, bacteria and other contaminants lurk inside.
 A mini water dispenser will make water easily accessible, so everyone keeps hydrated even on the hotter days. The right dispenser will be durable so it won't get damaged after some rough handling during packing.  
Dry bag
While out and about catching dinner or simply taking a hike, you'll have many items that need to stay dry. And you never know when a rainstorm may hit! A dry bag is a simple solution to keeping the essentials dry and using a separate waterproof phone case is also a smart idea.
They usually have shoulder straps that make them easy to carry. With different sizes available you can buy according to how much of your gear you want to keep safe.
Portable Coffee Makers
Even out in the wild you need a pick-me-up in the morning. And there's no reason you should sacrifice your Starbucks-quality coffee! Luckily, modern gadgets that are portable and innovative, help you make aromatic brews, from espressos to a French press cuppa. Thanks to an innovative gadget, campers can still enjoy elements of a higher quality of life, even when far away from civilization.
Ice Machine
Camping is of course a popular activity during summer, creating the perfect setting for family members to build and strengthen relationships. But what do you do to beat the heat? 
Luckily, brands like Euhomy make ice machines that are very portable. The 2.2-liter countertop icemaker design is compact enough not to clutter your camping site. It only weighs around 18lb and is easy to clean when you're packing up to head home. 
Because the Euhomy ice maker is energy efficient, it won't require much power, so you can have ice even if you use a solar power system. Also, thanks to the low noise feature, you can enjoy the quiet of nature and cool off by sipping an ice-cold drink.  
Cash
With society going paperless and cashless, you probably just use your debit or credit card to pay these days. But at camping facilities there are still many services or activities that require cash payments:
Entrance fees to specific areas
Paying for firewood
Buying locally made products as mementos of your excursion 
Keep a few dollars in your pocket at all times, so you don't have to turn around or leave empty-handed.
Fire Lighting Kit
Camping is synonymous with campfires, so don't underestimate how important it is to have a way to start yours. You may have a gas fire for cooking dinner, but you need a real fire to toast marshmallows or keep you warm when the night gets chilly.
A common challenge is getting a fire started in wet conditions. That proves the value of a fire-starting kit. They have different ways of making it easy to have fire lighting equipment on hand. Some have magnesium to ignite, others have matches and other kits even have a saw wire to cut wood. Just make sure it's all kept in a compact, watertight container that will keep out moisture.
Camping Journal
Camping journals are not old-fashioned! How will you remember all the precious moments if you don't jot them down?
Most families have at least one member who likes writing, so ask them to keep a diary of your adventures. In addition, a camping journal is for:
Writing down the words to the song you made up around the campfire.
Keeping score for the games you play.
Safekeeping of an interesting flower or leaf you find while hiking.
Noting the good and bad of each camping site, so you know which ones to return to next year.
Never underestimate the importance of keeping pen and paper close at hand! In some you'll find space to store photos and mementos like ticket stubs or notes, making it ideal for keeping track of your camping travels.
Rather be Safe than Sorry
Now, does your camping experience need a Euhomy ice maker, a dry bag, or firelighters? Rather put these items on your checklist so you never forget them at home. They could be key to beating the heat, enjoying a few luxuries, and making memories!