Most of the time, running a bar can be quite a bit of fun. You got the freedom to design your beverage menu, throw a spontaneous party for friends, diversify music in house, and party as much as you want.
Watching people drinking and dancing to the music under the neon, bringing the vibes to the top with a complimentary shot or some Afrobeats, would be one of the most exciting moments of being a bar owner.
People do love the music, but most come for the drinks! It's not fun when you are out of ice, and ice delivery is delayed. Bartenders know how it feels when guests are desperate for a cold drink, especially during peak time.
You may get a larger ice bin to stock up as much ice as possible, but it can be a headache when you pay the electricity bills.
Making your own delicious and odorless ice in house with a commercial ice maker could be a practical solution to increase productivity and reduce the cost of your bar.
So, the next is to find out – how to choose the best commercial ice maker for your bar or restaurant business.
But there's no the "best". The "right" one is always the best.
What Types of Ice Do I Need?
As a bar owner, you know so well the importance of ice to drinks!
Understanding the different types of ice is the first step to select the right ice machine to maximize its value for your business.
The most common 3 types of ice used for beverages are:
Cube ice: 

perfect for soft drinks, mixed drinks, and strong alcohols.

Nugget ice: 

ideal for non-alcoholics, alcoholics, and blended drinks.

Flake Ice: 

often used for blended drinks.
What Size Ice Maker Do I Need?
Generally, size refers to its ice production capacity. So, you need to look at your menu and bar's capacity.
What types of drinks do I serve?

How much ice do I need?
Usually, most bars consume an average of 2.5 lbs. of ice per guest every day. A breakdown of cold drinks would help you with decision making:
Cocktails / Soft drinks: 1-2 lbs. of ice cubes per guest.
Strong alcohols: 1 lb. of ice cubes per guest.
Water: 1 lb. per table, but it can be flexible.
Beer: served cold but no ice required.
For example, if your bar can host up to 100 guests during peak time, you will need to make sure you have 300 lbs. ready in the ice bin according to the basic estimated volumes, meaning 20% extra are necessary. The safest option is to prepare 350 – 400 lbs. as many small bars won't use more than 400 lbs. of ice per day.
What Type of Commercial Ice Makers Fits My Business the Most?
Built-in ice makers
- Designed to fit into the cabinets under a countertop.
- Size/Capacities: 20 to 100+ lbs. of ice / 24 hours.
- Almost totally automated.
- Require a water line.
- Not convenient to move.
Freestanding ice machines
- Flexible to fit in all scenarios.
- Size/Capacities: 20 to 100+ lbs. of ice / 24 hours.
- Require a water line.
- Convenient to move anytime.
Undercounter ice machines
- Ideal ice makers for those who need a lot of ice supplies daily.
- Have larger ice production capacities.
- Usually almost completely automated.
- Require a water line and take up space.
- Not easy to move.
Countertop ice makers
- Usually, they are compact ice machines that won't take up too much space.
- Portable designed for convenience purpose. Users have the flexibility to move the machines around, space them to perfectly meet their needs.
- Do not require a water line, but you need to add water continually.
-Have smaller capacities, capable of producing 20 to 40 lbs. of ice per day.
How Much Space Do I Have for a Commercial Ice Machine?
When making a decision, every business needs to put space into consideration as it can reduce the cost of rent, especially within F&B areas.
If you are a medium-sized bar, larger capacity would be the primary factor in decision making.
But if you are looking for something flexible for a small bar or pub, it's wise to look at its flexibility for transportation or business growth and extension in addition to production capacity.
Small freestanding commercial ice maker machines are the types you should consider.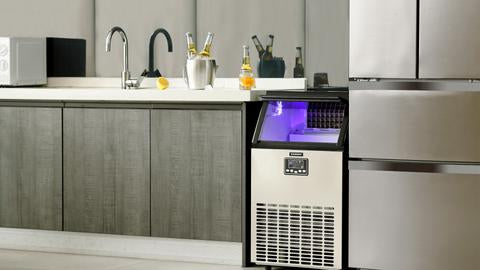 Food & Beverages business can be much easier if you choose the right location, the right team, the proper management, the right marketing strategy, as well as the right bar equipment.
For more information about small commercial ice maker machine, follow our community and stay tuned!