If there is a product in demand in any season and at any time of the day, it is the ice cube that we put in any drink.
To have ice cubes in quantity and quality, it is recommended to have a good ice maker (if you don't have one yet, you can see on our
Euhomy brand
,
the best ice makers at affordable prices
). For daily use, it must always be well maintained, not only for reasons of hygiene and health but also to preserve its technical performance
These household appliances have their peculiarities, but an excellent ice cube maker is recognized for its robustness, speed, and longevity.
In this article we are going to see:
Clean ice once in three days

Unplug the power system

Cleaning the inside of the machine

Cleaning of hidden corners places

Checking all items

Cleaning the inside of the machine

External cleaning of the ice maker
Clean ice maker once in three days
When purchasing the ice maker, you must first find out about the cleaning procedure for the machine. To do this, you must have the instructions.
However, it is good to know that ice maker maintenance must be carried out at least twice a year. But it all depends on the frequency of use.
Unplug the power system
Before starting the cleaning, you must first turn off the power to the machine. Next, remove the removable ice maker receptacle and pull out the ice cube tray to wash it with hot soapy water. You must rinse well.
The condenser is to be cleaned while paying attention to the fins which are very sharp. You should use a brush or vacuum cleaner with a brush.
Cleaning the inside of the machine
The ice maker must now be cleaned. Use of a soft cloth is required and in case of lime, mold, and other stubborn dirt, white vinegar should be used, two tablespoons are sufficient. This product is used to clean and disinfect. Water and vinegar solution is recommended to be 10:1 respectively. White vinegar can be replaced by lemonade.
Cleaning hidden corners places
Use a pump to flash washing solutions into hidden paces and use the long brush to clean all the places inside.
All the different accessories must be removed and washed one by one, especially the water treatment devices.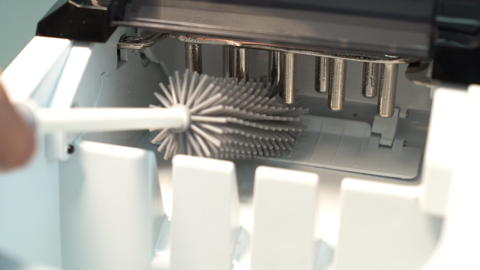 Maintenance must be systematic. You have to take care of every accessory of this small appliance. Take apart the filter to clean it well.
Checking all items
Careful maintenance is recommended, as the accessories are delicate. After cleaning the home ice maker, it is mandatory to recheck each component and part. It is essential to prevent any failure that could cause a leak.
After cleaning, it will be necessary to reassemble and ensure that the elements are in their place. The unit must be dried and run for two cycles to ensure operation. A well-cleaned ice maker produces ice cubes with clear, good-smelling ice crystals.
Cleaning the inside of the machine
In addition to the white vinegar that you will use to make a perfect cleaning, you must follow a well-known methodology to succeed in your mission. When it comes to cleaning the interior of your machine, you must follow a well-defined methodology. The first step will be to empty the machine and remove all the parts that can be cut off. Then you will examine these removable parts to see if they are still in good condition.
Then, you will need to clean each of its parts using a soft cloth. It is also advisable to clean the tray which finally receives the ice cubes every week or twice a week. It is important to take action because the drip tray is a point where you will see more impurity. This is where you'll use the white vinegar more. The condensate system should also be cleaned and you should use a vacuum cleaner to achieve this.
For anything that will remain as a removable part, you can use your cotton cloth to clean them. To this cloth, you will add washing up liquid.
Cleansing the interior of the ice maker.
After wash, you will need to cleanse the ice maker by making ice to reject once or twice before making the consumable ice. If you just bought a new ice maker and do not know how to make ice or
how the ice maker works
,
check this bulletin
. This process is recommended since after cleaning the first turn of ice will have the residue of cleaning, such as vinegar.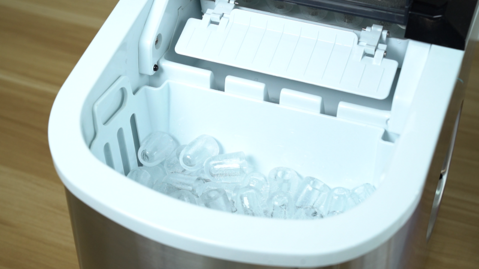 External cleaning of the ice maker
You should also take care of the exterior of your ice maker. Here you will act as you do with your other kitchen appliances. Your machine must always be clean so that your ice cubes are also safe to drink.
Regularly cleaning your ice maker will help you use it for longer. Also, you will no longer face
continual breakdowns
. For ease of cleaning your machine, you should also choose a well-built machine. For a wise choice, you can rely on a comparison.