Who would say no to a cold drink during business hours in the office, especially when you have tons of work and several meetings to attend? It can kind of "wake you up" within seconds. Also, the moment you arrive home, the first thing you probably would do is to open your fridge to fetch some cool fresh juice to refresh your mind before you hit the gym or go for your daily routine.
Whether in the office or at cozy home, making things simple and easy is the mutual goal for everybody. And simple living isn't simple, as it must've taken you a long time to shape a light and healthy living life structure. For people like you, unnecessary furniture or home appliance would be a burden. In that case, maximizing your beverage cooler would be a great way to maintain this life structure with some "sparks." Light on carbon footprint, you may skip another kitchen fridge if you don't really cook.
Here are a few "tricks" we can do to enrich this simple living while keeping a light lifestyle.
1. Make your cooler some space for daily fresh drinks and food
A great day starts with a delicious breakfast. Fresh food and drinks give you the energy as well as the drive to make every day a great and energetic day! Whether you work in the office or from home, it helps you save up a lot of time if you have weekly food and drinks stored in your fridge. Irregular shopping can really waste your time on transportation and food selecting.
Everyday food and drinks for breakfast and lunch won't take up too much of your space. For example, you may prepare weekly various juice, milk, soybean milk, fruits, sandwiches, and bread. There's still a lot of space to place your salads, home-made lunch, or some cold coffee for the whole afternoon!
2. Make it a party fridge
Living in the fast-paced 4.0 industrial age, throwing a spontaneous party would be fun to relieve stress from work and life whenever you need one. With a Euhomy small beverage fridge that can store up to 120 cans, you can just easily stock up some snacks, fruits, beers, soda, strong alcohols, non-alcoholics, and any other beverages you fancy.
It ain't a real party without wine if you are a wine lover!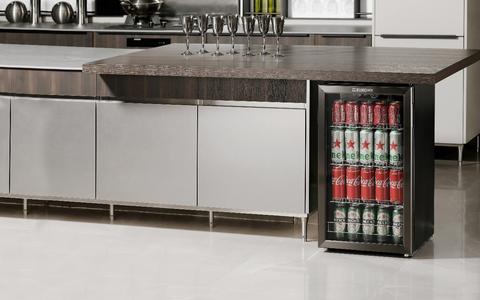 Here're some tips you might want to know:
Do we need to chill wine?
Usually, red wines are served at room temperature or slightly cooler at 62–68°F (15-20°C). Sparkling wines and white wines are served cold at a certain temperature. Their rich flavors and aromas reach the top chilled at the right temperature.
And if you are running out of space, you can adjust the shelves and remove some soda cans with a few bottles of sparkling wine or white wine.
What is the best temperature to chill wine?
In general, sparkling wines have the best tastes served cold at 41-50°F (5-10°C), and white wine at 44-55°F (7-12°C). When you have set the temperature at 41°F (5°C) to 50°F (10°C), you make it a wine chiller!
However, the key to chilling wine for its best results is to maintain the cooling area at a consistent temperature. Even though your chilling temperature is a few degrees difference from the ideal ones, the outcome won't disappoint you if you avoid frequent temperature fluctuations.
Most importantly, for its compact design with free-standing adjustable feet, you can literally make an outdoor party or take it with you for a road trip in your RV!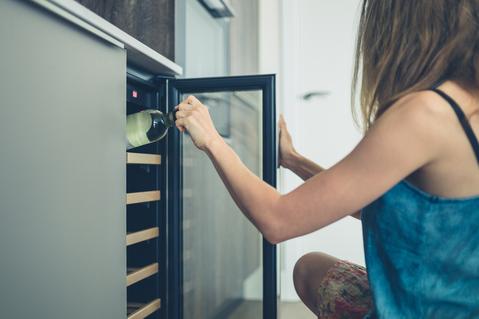 3. Give your skin care routine a boost with a small beverage refrigerator
Scientifically speaking, not every beauty product needs to be stored in a refrigerator. Most skincare products, such as face cleansers, sunscreens, moisturizers, lotions, face and eye creams, serums, and masks, won't lose their active ingredients theoretically in room temperature conditions up to 85°F (29°C) or a bit higher. A cooler condition at the right temperatures may extend their shelf life and level up your skincare applying experience.
Even if you don't have a skincare mini fridge, nothing can stop you from giving your facial care a boost with some tricks!
A chilled sheet mask can tighten your pores. You may store your sheet mask in the fridge for a few minutes before applying. Effective facial moisturizing care is such essential and easy!
However, an improper cooler environment may affect the consistency and texture of the product itself, such as anti-aging serums with vitamins and lightening creams containing AHA or BHA. It's better to keep them at room temperature if you don't have a mini skincare fridge and can't avoid temperature fluctuations.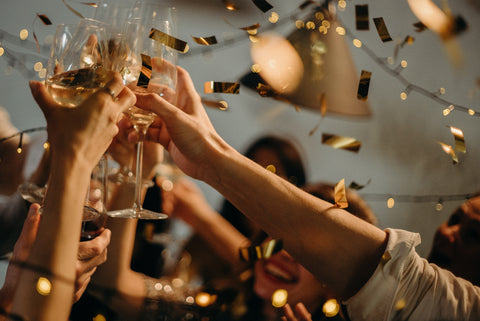 A simple life isn't plain with some fluctuations! Ideas to spice up our life can be found in every "plain" home appliance. What we need to do is just to think outside the box.
For more inspiration to spice up your simple life, join our community and stay tuned!