Even though, in the end, an ice cube maker may seem fairly simple in design and therefore not prone to break down every four mornings, it is an electrical device comprising more and more electronic components that can more or less long term become defective and therefore throw away your dear ice maker.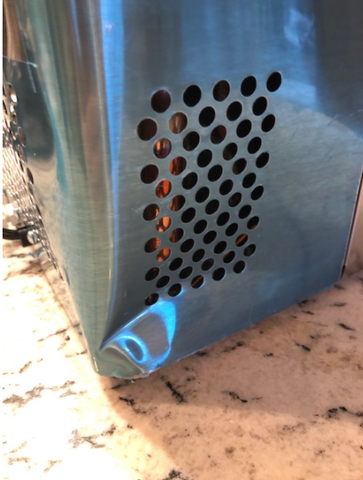 Also, as we suggested in our previous article describing what an ice maker is, regular maintenance is the best way to extend the machine's life. We will see that one of the recurring failures concerns the non-maintenance of one of the ice machines' main parts.
Even if this type of machine is mainly used in summer, turning it off during the winter can cause problems when restarting.
In short, we took a look at a hundred forums dedicated to ice machines to list the type of failure that users frequently encounter with their ice machines. We have sorted out the answers obtained to their questions to establish a guide that does not clear you from referring, initially, to the manufacturer's instructions, especially the parts devoted to warning messages and other breakdowns.
My ice maker no longer turns on.
The after-sales call center employees will be able to confirm this to you. They are almost embarrassed when they ask the question, but they need to check if it is properly connected since this question represents nearly 20% of incoming calls.
Otherwise, after a more or less long shutdown period, it is not uncommon to experience this type of problem. The main reason is often the failure of one of your ice maker's electronic components, a small fuse most of the time. If you are not keen on electricity, we advise you instead to contact the after-sales service for your machine's brand. For the others, by referring to the manufacturer's manual, you can find the part number, order it and then replace it.
But this type of general failure can also result from poor or even lack of maintenance on your machine. Failure to clean the condenser regularly can cause the machine to jam and other inconveniences to the quality and production of ice cubes.
The best solution not to be faced with the unpleasant surprise of not turning on your ice maker is that you will understand to maintain it and especially to clean it completely before turning it off if you wish to. Do in winter, for example.
I have a problem with the production and quality of ice cubes.
Here too, regular non-maintenance of your ice maker may be the main cause. The scale build-up can clog and limit or block certain parts of the machine, which may initially slow down the production of ice cubes, creating ice cubes that will no longer be as perfect as those used to use more small, hollow, poorly formed, etc.
In the long run, the tartar can end up blocking everything, even breaking some parts. Admit that it would be a shame to have to do without your ice maker's services for the simple reason of not having taken 10 minutes of your time from time to time to take care of it.
The low water indicator light stays on continuously.
This is one of the most frequently reported failures on the forums. The reason is the malfunction of the sensors for water in the tank. You should know that some manufacturers are quite Sioux because the sensors in question are sometimes the screws that fix the said tank. In this case, a simple release of the screws in question enables the sensor function to reactivate. One Internet user even says that he must regularly renew the operation.
Other machines work like flushes. You have a small float that indicates the presence and level of water. The flush example is not trivial because everyone has been confronted with a continuous flow of water in their toilets once in their life. The result of your ice maker's malfunction will be the same: you will have a water flow in the ice cube receptacle, and your indicator light will remain on. The solution will be to clean it and check its operation.
After a period of inactivity, the full bin indicator lights up.
This problem may be due to a problem with the temperature probe. Often, you have to wait for the machine to cool, drain the water, restart with new water, and voila. If the problem persists, depending on the model, of course, it could be a problem with the pump (HS), circuit board, or water detection system (a mechanical problem of electronics). The solution, please contact after-sales service.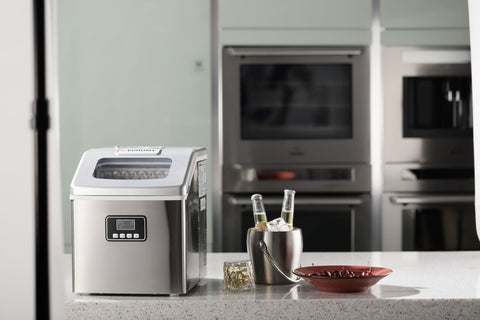 In fact, we could add to that list of types of failures exponentially, but that would give you a pretty wrong picture of this type of hardware. Indeed, ice makers are mostly reliable, and breakdowns are rare.
Plus, as we've said many times, good maintenance avoids most of it. Then, as we will see in the following articles, the major brands of ice makers and the after-sales service of appliance distributors are competent enough to help you repair. They at least put your appliance back into service without having to return it when these are listed failures and are not dependent on a part or electronic component defect.
It's indeed frustrating because failures always happen when you need (want) to use the equipment in question. There is maintenance to prevent this from happening to you, and customers should consider the choice of model, brand, and after-sales support when selecting the model you will buy.